W porównaniu do Polski Japonia to prawdziwa mekka spamerów – tych klasycznych, nie elektronicznych, oto fotka średniej ilości spamu z okresu około 2 tygodni, waży prawie 0.5 KG, wysokość około 10cm. I tak w kółko, dostaję, opróźniam skrzynkę, wyrzucam.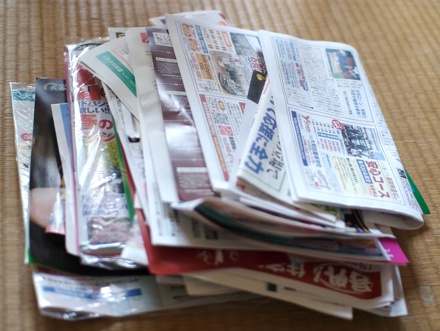 A na następnym zdjęciu 2tygodniowa portcja śmieci, sortowanie dokładnie jak miasto nakazuje, w oddzielnych torbach rzeczy plastikopodobne, w następnej papierowe, oddzielnie drobne a oddzielnie większe. – To wszystko musi być w specjalnych źółtych workach zaprojektowanych przez miasto i naleźy to wystawiać przed dom konkretnego dnia tygodnia przed 8.30 rano. W inne dni zbierają rzeczy do recyklingu (butelki plastikowe – bez etykietek i zakrętek – te wyrzuca się innego dnia, puszki, papier – zawsze ładnie związany sznurkiem i inne).
Taka już tutaj dyscyplina i wcale nie jest to jakieś uciążiwe.