My place is between 3 stations: Ebisu (15-20 min walk), Hiroo(10-15 min walk), Shirokane-Takanawa (5-10 min walk).
Address: 108-0072 Tokyo, Minato-Ku, Shirokane 5-7-12, La Shirokane 402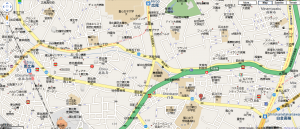 The easy, lazy and semi-cheap way, is to take a bus line 87 from shibuya (bus stop bay on the side opposite to shibuya crossing), ebisu (bust stop is across fedex kinko's ) or tamachi (almost in front of tsutaya), this will cost ya 200円 :-D
My stop is called "Kitasato – kenkyusho – mae", if you come from shibuya/ebisu direction, leave at this stop, and go along the same bus route for some 100 meters and you will see cemetery/sunkus.
from tamachi direction – go opposite way, or leave on the stop "sankozaka-shita" and walk along the bus route.
——
Cheapest way (0円):
Take EAST EXIT from JR EBISU station (if you come by hibiya line, you can go up the 3-escalators through the atre/station and still take correct east exit,
you will either go down the right or left stairs you can see on the picture, go along with the arrow.
// If you come by JR, just go straight through east exit's ticket gates, and the street you need to go along is exactly in front of you – you'll see it straight from this balcony // – in the very short – go along this street all the time straight for some 1.5 km until you reach laundry shop on the left, cemetery on the right and sunkus on the corner.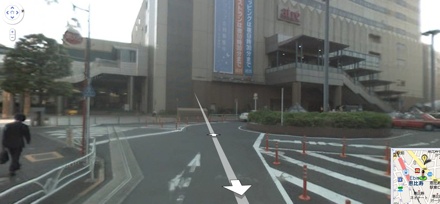 When you see the same as on this picture above, turn 180 degrees and then you will see picture below…
Congratulations, you're already on the right street (some people call it 'zest street'), go along this one, ALL THE WAY for 1 km., the street has number 305 just in case, you will pass FEDEX KINKO'S, ZEST restaurant etc etc.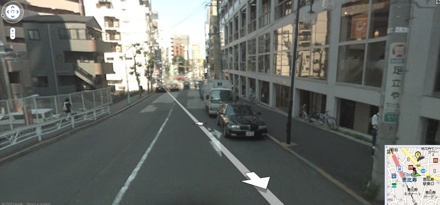 Now that you walked 1 km, you should see BIG BIG elevated expressway (Shuto-ko), in front of you, above your head, this is important checkpoint. This traffic crossing is called Ebisu 3-chome.
Keep going straight along the same street for another 500 meters, you will be passing 100 yen lawson, burger place, police box, hospital or nursery school.
After 500 meters you will notice cleaning shop almost on the corner to the left and cemetery to the right (with lots of skiers buried there – you will notice skis :P:P ), go ahead a little more and turn left.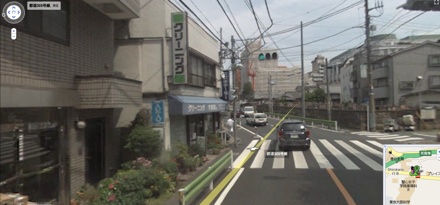 And you're here, my building is just across from Sunkus (you can get beers there :D ) store next to soba place.. (Don't worry, google map is old, my bulding is not there yet :-D – it's the one behind pedestrian on the crossing).
Now, walk inside and buzz apartment 402 :-D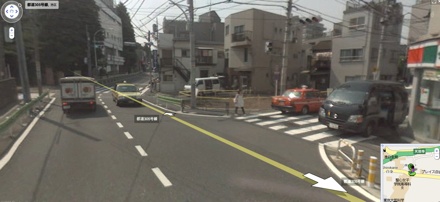 ———-

From Hiroo station:
take exit 1 or 2 (doesn't matter), and go along with this street (direction for gotanda) ALL THE WAY for 500 meters. (the road has number 418).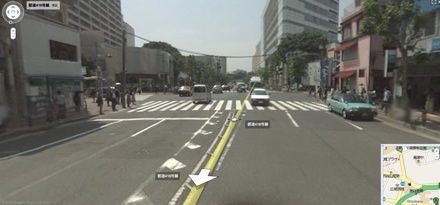 You will reach big road crossing with stairs etc etc, go along road 418 towards gotanda/meguro direction for 300 meters.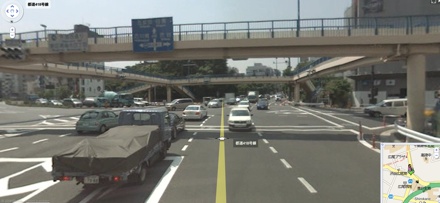 At some point you will start seeing expressway above (it's Shuto-ko), and you will reach to the same CHECKPOINT as if going from ebisu station, turn left and follow the rest of instructions.
————
From Shirokane-Takanawa station: Take exit 1 or 2 (you can take exit 3 as well – just go straight ahead from the stairs and you'll see ESSO station), cross the street and find the road (number 305) between ESSO and Himalaya Curry / pizza place, go along with it for 600 meters until you see cemetery on the left and sunkus on the right and you're there :-D.