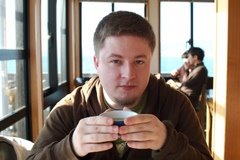 Mój pobyt w Japonii to już od kilku miesięcy historia. A jednak żyje nią na codzień i chociaż pobyt do najlżejszych nie należał, to, gdy sobie pomyśle i powspominam, co ja tam robiłem i ile przyjaznych dusz spotkałem, od razu przybywa mi sił.
Tutaj na miejscu szlag mnie trafia, kiedy widzę, będąc w autobusie, że biegnie człowiek od frontu kierowcy, a kierowca z uśmiechem na ustach zamyka mu drzwi przed nosem, zapominając, że właśnie zamknął drzwi klientowi – gosciowi, który zrzucił mu się na pensję kupując bilet za 2,40. Śmiać mi sie chce, kiedy znowu komuś tam uda się zdążyć i przechodzi przez cały autobus, żeby ofiarować kierowcy swoje podziękowania. Albo jestem chamem albo to kierowca powinien się w pas kłaniać za to, że człowiek, co prawda może i nie mając wyboru, ale zdecydował sie zostać klientem MPK.
Poza tym lubie sobie czasem pojeździć 175-tka, ścisk lżejszy niż w Yamanote, a do tego brak wyziewów z kategorii alkoholowe, jak również brak miejsc 'tylko dla kobiet'. ;) I czasem pojawi się uśmieszek na mej twarzy, kiedy to któryś ze współtowarzyszy podróży, wspomni coś o 'sardynkach w puszczce'.