Yessss!!! i passed all tests and have Japanese Driver License :-)
Wasn't easy nor fast,
It started with required official translation of my current polish license to japanese done by JAF – Japanese Autmobile Federation – this was coordinated by WiT.
Later we had to submit paperwork in the test centre, they took my passport, gaijin card, drivers license and translation, waited few hours, was ordered to take a photo of myself, fill more documents, wait more, then had to do eye-test, waiting again, and finally i could do written test. Answered all tricky question and waiting again for result which was not impressive, next try next week.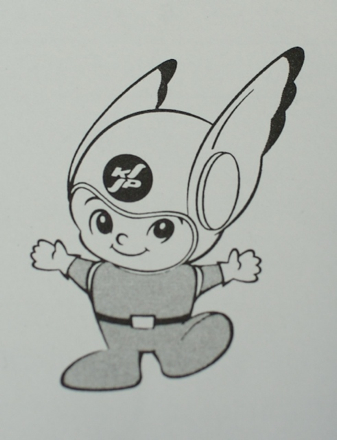 For the next try i prepared much better – bought myself Rules of the road book, read it all, with such knowledge i finally passed the test. With results i received a card to keep until road test.
Also, i received small guidebook with track map and route which i had to take.
When the day has come, i arrived one hour earlier to take a look on the track, walk around and get ready (this helps a lot).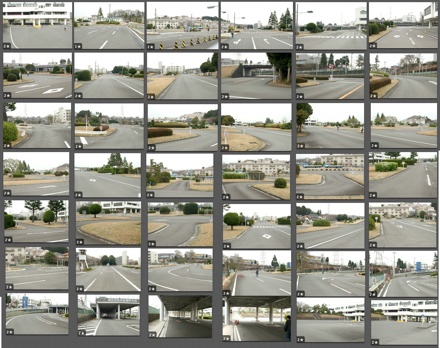 The track is very cool – totally not like in Poland, this one is real copy of real streets with traffic lights, pedestrian crossings, railways track, trees etc.
There's just driving, no maneuvering at all, no parking, backing up etc. Just go straight along with route.
So, i put my papers, got card with my number on it, few more hours waiting, finally my turn came, a bit of stress and start, after few turns the test was over – as far as i understood i was way too much smooth taking right turns. Waiting again (even if i knew i failed) to receive documents and check next schedule date.
A week has passed – next attempt – this time i got 2 minutes late to submit my papers (the window is open ONLY from 8.30 to 8.45 in the morning), but i got lucky and made it anyway – what was suprising, first exam costs 1100 JPY but every next is 3500 JPY, in addition to that i had to wait in a queue to buy some stamps, that was luckily quick, put documents again, and same stuff, waiting waiting waiting.
This time it was better, i made it through whole track and the guy had only one complaint that i should look over my right shoulder turning right – maybe he was right. Again waiting for papers and next schedule.
This time i was able to sync up with WiT for the same day, we met earlier to see the track again, put papers, waiting 1.5 hours (surprisingly fast) driving time. I went trough whole track (not even a word from the guy), at the end he said that i should stick closer to left edge of road when turning left – but i passed. Waited some time for results, got paper with congratulations and time when should i go upstairs to receive my license: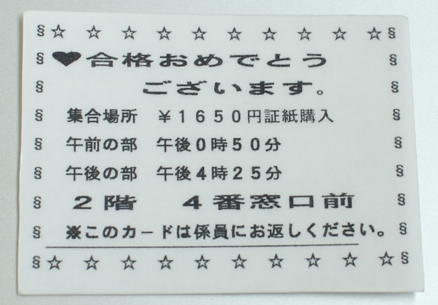 Of course there was another fee to pay, wait next 1.5 hours, exchange paper for another, take another photo, go downstairs, fill some form, stick stamps, wait 30 minutes. And finally got my license.
Visited test center only 5 times, in total many hours of waiting, couple thousands JPY and it's all ready: